The Muppets!


General Information

Project ID

11050

Author

Link

Statistics

3,072+ supporters

1,027 comments

16+ bookmarked

73,274+ views
The Muppets! is a project on LEGO CUUSOO created by jedikermit on February 28th, 2012.  The project is an attempt to bring The Muppets into LEGO form.
This message was written by the creator of the project. Do not modify the message in any way.
 *Muppet Mindset posted article about Muppet LEGO Proposal December 26, 2012*
UPDATED August 26, 2012 with Custom Minifigures of Gonzo the Great, Camilla, Sam Eagle, Swedish Chef, Statler and Waldorf*
UPDATED May 25, 2012 with Custom Minifigures of Kermit the Frog, Miss Piggy, Fozzie Bear, Bunsen, Beaker, Rizzo the Rat, Pepe, and Scooter*
UPDATED May 15, 2012 with Swedish Chef's Kitchen, Muppet Labs and Muppet Theater*
Check out more Muppet LEGO ideas and customs at http://www.flickr.com/groups/muppetlego/
The Muppets would make an excellent series for LEGO sets, and have potential for both young builders and Adult Fans Of LEGO. There are dozens of popular characters, but there are also vehicles, playsets, and scenes that would make great buildable LEGO sets. Like other Disney properties that LEGO has produced, including Toy Story, Cars, and Pirates of the Caribbean, there's a built-in audience of fans young and old that would be able to enjoy the system.
Some suggested sets at various price points:
KERMIT'S SWAMP $7.99 Kermit the Frog in a small swamp scene, with his banjo, some lily pads, and possibly a friendly alligator or his nephew Robin to add some play value. Could even include his bicycle that he uses to pedal away from it all in The Muppet Movie.
GONZO'S STUNT CYCLE $14.99 Gonzo the Great in a stuntman's costume, with a motorcycle, ramp and "flaming hoop" to try and jump through. Other characters in this set could include Scooter, assisting Gonzo from backstage, or Gonzo's girlfriend Camilla the Chicken, or even his sidekick Rizzo the Rat.
HOT AIR BALLOON $19.99 At the beginning of The Great Muppet Caper, Kermit, Fozzie Bear and Gonzo drop into the movie in a hot air balloon. LEGO could make a fun version of this either using the method they've used to build other hot air balloons, or with a brick-built balloon using methods similar to their "Big Apple" LEGO set found in the Rockefeller Center LEGO Store. Kermit would be in his reporter's costume as seen in that movie, with Gonzo dressed as a photographer.
PIGS IN SPACE $29.99 A modified version of the spaceship Swinetrek as seen in The Muppet Show Pigs in Space sketches, this spaceship would have an open cockpit, but include details like the snout and tail engines and the control panel from the series. Minifigures would include Captain Link Hogthrob, First Mate Miss Piggy, and Dr. Julius Strangepork.
ELECTRIC MAYHEM BUS $39.99 The band from The Muppet Show has always been popular with kids and adults, and this set would include their bus as seen in The Muppet Movie. Characters would include Dr. Teeth, Floyd, Janice, Zoot and Animal, and all of their instruments would come with the set. A small stage could be built with the bus, or they could perform on top of the bus. They're hippies like that.
MUPPET THEATER $59.99 The largest set would be The Muppet Theater, which would include a stage area, and a balcony to the side. Exclusive minifigures like Statler and Waldorf (the two old guys from the balcony), Sam Eagle, Swedish Chef, Rowlf the Dog, Mahna-Mahna and the Snowths, and unique versions of Kermit the Frog and Miss Piggy could be included. Ideally, it would be wonderful to have different scenes for sketches that could be put onto the stage: some brick-built arches that represent the beginning of The Muppet Show; a small kitchen for the Swedish Chef, a grand piano for Rowlf, etc. There could also be some backstage details included, without building the entire backstage as seen in The Muppet Show.
There are many other ideas for sets as seen in The Muppet Show and the various Muppet Movies:
Muppet Labs with Bunsen and Beaker (and a giant Build-an-Animal!) Bear on Patrol Police Cruiser with Fozzie Bear and Link Hogthrob Wedding Chapel with Kermit the Frog and Miss Piggy getting hitched Star Wars/Muppets Crossover with Gonzo as Dirth Nadir and Miss Piggy as the Princess Veterinarian's Hospital Ambulance with Rowlf as Dr. Bob, with Nurse Piggy and Nurse Janice Fozzie's Studebaker with Fozzie Bear and Kermit "Movin' Right Along" Kermit's Rolls Royce from "The Muppets" with Kermit, 80's Robot, and Walter Gonzo's Stunt Boat from The Muppets Take Manhattan Gonzo's Human Cannonball Gonzo's…pretty much every stunt he performed could make another silly LEGO set.
...there could also be sets from Muppet Treasure Island, from A Muppet Christmas Carol, or Muppet Show episodes where the Muppets are playing other classic characters.
EDIT March 9th *** I created a Flickr Group at http://www.flickr.com/groups/muppetlego/ where I can post other pictures, and you can share your pictures for ideas and suggestions for this theme. If you're interested, check it out and share with friends -- thanks!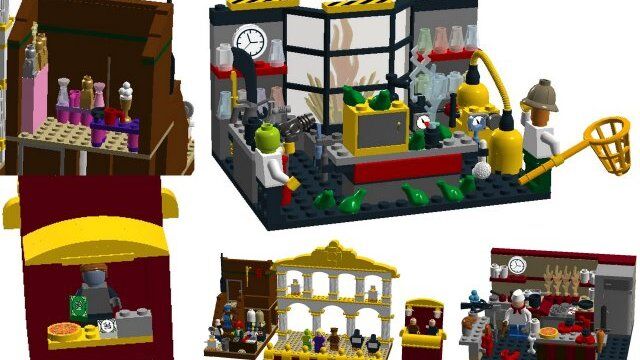 For the Muppet Theater, I envision a central stage that you'd be able to put different sets on. The one shown here is simply the arches from the opening credits of The Muppet Show--the most iconic thing I could think of. To the left of the stage is the backstage area. This includes Kermit's desk, sandbags, lighting control panels, and the stairs going up to Miss Piggy's dressing room. For the interior of the dressing room, check the Flickr group here: http://www.flickr.com/groups/muppetlego/
To the right of the stage is Statler and Waldorf's balcony; behind and underneath that, there's a ticket booth/concessions stand. Not necessarily "show accurate," but a good way to use that space and add some play value. For additional pictures of that ticket booth, check the Flickr group here: http://www.flickr.com/groups/muppetlego/
In the same set, I'd include small classic sets that could be put out onto the stage: Muppet Labs for Bunsen and Beaker, a kitchen for the Swedish Chef, some sort of vaudeville backdrop for Fozzie Bear, etc. ...the Chef's Kitchen and Muppet Labs are both pictured here; you can see larger images at the Flickr group. :)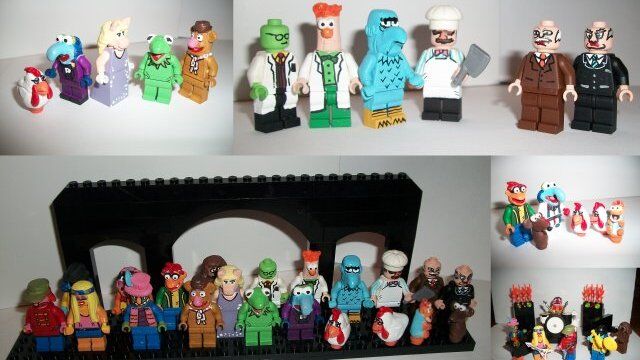 Some custom-made versions of several Muppet Characters to see what they could look like (of course the real LEGO designers would do a better job. From left to right, top to bottom: Camilla, Gonzo, Miss Piggy, Kermit the Frog, Fozzie Bear; Dr. Bunsen Honeydew, Beaker, Sam Eagle, Swedish Chef, Waldorf and Statler; Group Photo, Scooter, Rizzo the Rat, Stuntman Gonzo, Camilla, Chicken, Pepe, Dr. Teeth, Janice, Animal, Floyd, Zoot, Rowlf. There are more pictures of them at http://www.flickr.com/groups/muppetlego/ , and more custom minifigures on the way!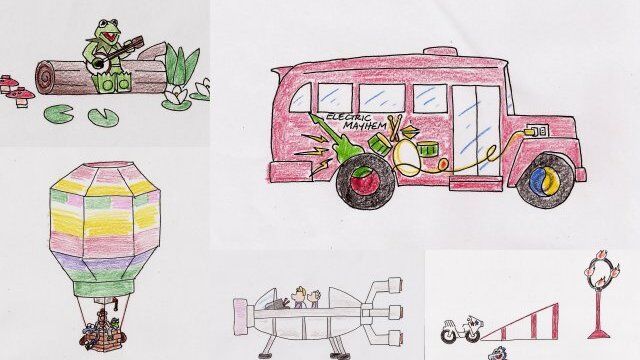 Sketches of proposed playsets: Kermit's Swamp, Electric Mayhem Bus, Great Muppet Caper Hot Air Balloon, Pigs In Space (USS Swinetrek), Gonzo's Stunt Cycle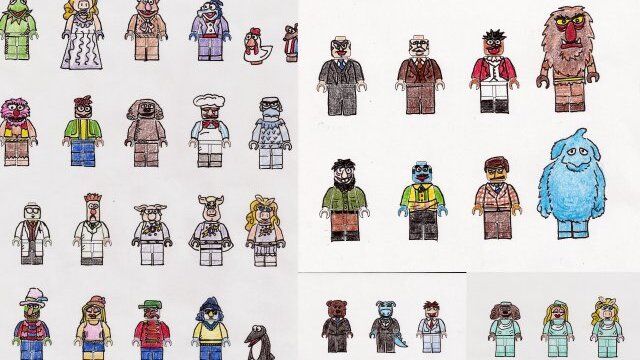 The standard minifigure would work for many of the Muppets, but for some of the characters, all-new sculpts would be required for their heads. That includes the main characters of Kermit the Frog, Fozzie Bear, Miss Piggy, and Gonzo. These would also be the ones reused the most often, and included in most sets, so that would hopefully amortize the price enough to make it worthwhile. There could be cloth details on some characters: Kermit the Frog's iconic pointed collar would be great as a cloth neck piece, and various capes for Gonzo, Link Hogthrob and Miss Piggy would look best as cloth pieces.
Some of the smaller characters would include Camilla the Chicken, Rizzo the Rat, and Penguins, and would be best as a sculpted figure ala Salacious Crumb in the new Jabba's Palace set. They're also relatively minor characters, so if they got kept out of the lineup due to costs, that would be understandable.
Character sketches above: Kermit the Frog, Miss Piggy, Fozzie Bear, Gonzo, Camilla, Rizzo, Animal, Scooter, Rowlf, Swedish Chef, Sam Eagle, Dr. Bunsen Honeydew, Beaker, Dr. Julius Strangepork, Captain Link Hogthrob, First Mate Piggy, Dr. Teeth, Janice, Floyd, Zoot, Penguin, Statler, Waldorf, Lew Zealand, Sweetums, Crazy Harry, Marvin Suggs, Newsman, Thog, Bobo, Uncle Deadly, Walter, Dr. Bob, Nurse Janice, Nurse Piggy

SUPPORT HISTORY Launched Proposal: 2/28/2012 Reached 500 Supporters: 5/7/2012 Reached 1200 Supporters 10/25/2012 Official LEGO Comments 10/25/2012 Reached 1300 Supporters 11/17/2012 Reached 1400 Supporters 12/19/2012 Reached 1500 Supporters 12/27/2012 Reached 1600 Supporters 12/31/2012
Reached 2000 Supporters 2/21/2013
This message was written by the LEGO CUUSOO Team. Do not modify the message in any way.
 Congratulations on 1,000+ Supporters!
2012.10.25
You've done a lot of work capturing the Muppets as LEGO minifigs. It would certainly be fun to see a LEGO set based on these classic, lovable characters. Good luck on your journey to 10,000 supporters!
The LEGO CUUSOO Team