The Glory of Rome


General Information

Project ID

9068

Author

Link

Statistics

2,842 supporters

781 comments

37 bookmarked

52,336+ views
The Glory of Rome
is a
project
on 
LEGO CUUSOO
 created by 
mminnitt
. It was created on February 10
th
, 2012. The model in the main picture is a historical set featuring the British queen Boudicca on a chariot fighting the Roman invaders.
This message was written by the creator of the project. Do not modify the message in any way.
I will not be updating this theme or adding any new sets. This should be obvious due to the last update being a year ago but I thought I should make it official. If I thought there was any chance of the sets passing review I would dig out the part-finished work and post it anyway, however after seeing that the only set to pass review was made by a Cuusoo employee I really doubt it. I mean even the Western town was shot down. Thanks to the 2,526 others who thought that Roman Lego would rock - now our hopes must be that Lego are already working on Roman sets and it gets made anyway...
Thanks everyone, we gave it a good shot together! :)
New Sets* ICENI CHARIOT ATTACK - Can Boudicca and her brave soldier rescue their companion from his Roman captors? Charging in on her war chariot with it's Scythe wheels should tip the odds in her favour! Comes with Queen Boudicca, 2 Celtic Warriors, 2 Roman Soldiers, Guard Dog, War Chariot and Roman Campsite.
New elements will include: Wolfskin Headgear, Roman Eagle Standard, Centurion Plumage, Tiger, Gladiator Net.
The confirmed sets are: Roman: - Roman Fort (Hadrians Wall) - Caesars Villa - The Senate - Gladiator Battle Pack - Legion Battle Pack - Roman trade port - Roman Warship
Celtic: - Iceni War Chariot Attack - Druids Roundhouse - Celtic Hillfort - Celtic Battle Pack
Sets I have yet to design/confirm but would like to make:
The Collosseum (Death Star size set) Roman Arena (affordable size version of the Collosseum) Various Ancient Battle Packs Caesar & Cleopatra MORE!!!
If anyone has anything they'd really like to see in the sets then drop me a comment. You can also follow the progress of designing the sets and characters at my blog here: http://for-the-empire.blogspot.com/
If you like this theme why not check out Spiderpudel's project: http://lego.cuusoo.com/ideas/view/7543
!*!*!* As people keep asking: The sets are made in LDD (Lego Digital Designer) with additional work such as the boxes being done with 3DS Max 2012 and post processed in Photoshop CS5 *!*!*!*
ROMAN WARSHIP. Originally titled "Trireme" I've now adopted a more generic name for this vessel. Manned by 4 brave Romans (as well as a few unfortunate oarsmen when I design the figs) this huge ship carries the might of the Imperium to far off lands!
GLADIATOR BATTLE PACK. Probably needs a more Roman name but I think this sums it up! Fairly large for a battlepack but I've done all of them like this, with a bit of 'meat' rather than just figures. Some people have pointed out that the gate needs a wider base; ideally yes it does. That said all of my designs take into account that Lego will be doing a design pass on whatever I make, so the sets are more of a concept than a finished product.
Modelled a placeholder version the Standard Bearer's wolfskin headgear. Havent yet worked out how I'll make it look like there is a metal helmet underneath but that's something I'll tackle in the coming weeks.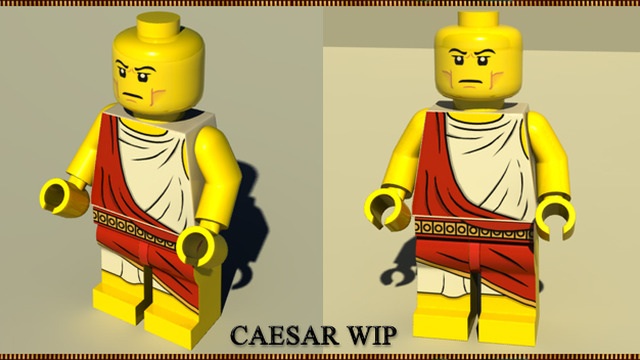 Made a start on a Caeser design, of which there will eventually be two (one in armour, one in toga). Not digging the way the red toga hangs on the legs at the moment, so I'll lower that down on the left in the next version. Very WIP at the moment, but let me know what you guys think!
This message was written by the LEGO CUUSOO Team. Do not modify the message in any way.
Congratulatory message from LEGO for +500 votes
2012.04.11
Congratulations on achieving over 500 supporters! Wow, this is an incredible, exemplary project. You've put a lot of work into custom set and minifig concepts, and you capture the essence of ancient Roman architecture and costumes with LEGO bricks. Your work stands for itself and it's clear why your project is rising in the ranks. Best of luck on your journey to 10,000 supporters!
The LEGO CUUSOO Team