Purdue Pete


General Information

Project ID

29614

Author

Link

Statistics

10,002 supporters

694 comments

5 bookmarked

102,900+ views
Purdue Pete is an Achieved project on LEGO CUUSOO created by sandsanm on October 16th, 2012. It reached 10,000 supporters on October 25th, 2012. The massive support surge came from Purdue University, which urged students to get accounts and support.  It is currently the most supported project on LEGO CUUSOO to date.
This project was the subject of much controversy due to the fact that Purdue University promoted the supporting of this project, and many new accounts were made solely to support it. This was at a time where supports were slow, and this project shot up to 10,000 supporters while other projects, including Space Troopers!, still kept a slow pace. More concern was shown over how the supporters may have been supporting to promote their University, and not for the potential set itself. However, some supporters did branch out more into LEGO CUUSOO, supporting several projects, while others were offended at how the project was received by many, and left the site.
This message was written by the creator of the project. Do not modify the message in any way.
Purdue Pete is an icon. Since 1940, his diehard passion for all things Purdue has made him a mainstay of Boilermaker culture — a dedication shared by 400,000+ Purdue University graduates all around the world.
This Pete stands 16 inches tall, is made of close to 900 bricks and features Pete's trusty hammer — a symbol of the strength and determination it takes to be a Boilermaker.
Purdue University fully supports this project and is confident that proud students, faculty, staff, alumni and fans will vote for Pete! If selected, Purdue Pete would become the first collegiate icon to have an official LEGO® set, which could start an exciting new line of university sets for the LEGO® group.
Boiler Up. Show your Boilermaker Spirit. Vote for Pete. 10,000 Votes. 36 Hours. 10/24/2012
I will donate all artist proceeds into a Purdue student scholarship fund. _________________________ 10/25/2012 (6:05 pm-9,104)
As an AFOL (FFOL) who only recently came out of the dark ages, I want to truly thank LEGO CUUSOO, TLG, Purdue University, the AFOL Community and all the Boilermakers and others who have supported this project so far. If we reach our goal of 10,000, I hope that TLG would view this as the start of a new line of university icons. Each major university has tens of thousands of new students and hundreds of thousands of alumni who would be lifelong supporters and buyers of their university's icon. These products would not be fads. Additionally, universities have the added advantage of a built-in distribution system at university bookstores and sporting events. On a personal note, if this new line was selected, I would hope that participating universities would donate at least a portion of the sales revenue to support student scholarships. Thanks again for everyone's support. I look forward to seeing 10,000! I sure wish I could vote!
Cheers, SanDSanM _____________________
10/25/2012 8:19 pm Achieved!
Thank you Purdue alumni, faculty, staff, students, and LEGO fans for your support of this project! Thank you for your loyalty to Purdue and showing your pride with your votes! Thank you to LEGO CUUSOO and The LEGO Group for this opportunity!
Boiler Up!!!!
SanDSanM ________________________
Follow this link to watch the making of Pete:
http://www.youtube.com/watch?v=SxRlTzSotWE&feature=youtu.be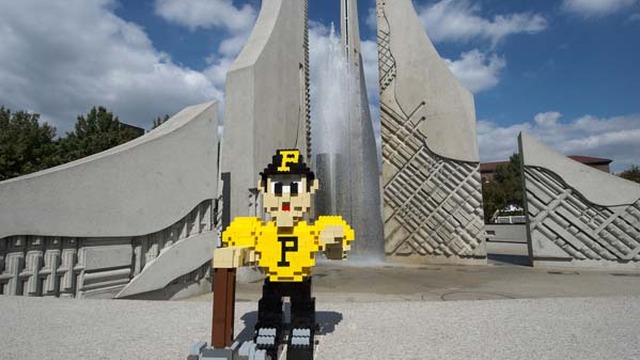 This message was written by the LEGO CUUSOO Team. Do not modify the message in any way.
Congratulations on 10,000 Supporters, SanDSanM!
2012.10.26
Boiler up! Wow, did the supporters for this project ever roll in quickly. You've made a very nice sculpture of Purdue Pete, and as your fellow classmates and alumni have shown, it looks like he'd would find a nice home on quite a number of desks and shelves!
More than anything, the success you achieved with this projects shows us what can happen when passionate, niche communities connect around a shared dream of potentially having their own LEGO product. Further it is inspiring to read your story in the Purdue Exponent about how the LEGO brick has become your artistic medium of choice.
Congratulations on achieving 10,000 supporters. We now officially advance this project to the Review phase.
What happens now? This project moves from the Idea stage to the Review stage. A "LEGO Review Board" composed of designers, product managers, and other key team members will examine the idea. We'll build concept models and determine if the concept meets our high standards for what it takes to be a LEGO product. This includes factors such as playability, safety, and fit with the LEGO brand. Every potential LEGO product goes through a process like this and must meet the same standards.
The LEGO Review Begins in December This project qualifies for the quarterly review beginning in December, which will also include all other projects that reach 10,000 between now and December 3. For more information about the quarterly review process, see this blog post.
The review is a thorough process and from its start, and can take several months. When finished, we make a "go/no go" decision to develop and sell a product based on the Purdue Pete concept.
When the review is complete, we will inform you of our decision. If green-lit, this project goes into the longest phase of the project; the Development phase. During this time, LEGO model designers refine the product and develop it for release, we create the product materials (box, instructions, marketing), and get everything ready for a production run. This also takes several months.
We will post follow-up information and our decision here.
The LEGO CUUSOO Team