My Little Pony - Friendship is Magic


General Information

Project ID

11176

Author

Link

Statistics

7,651 supporters

1,882 comments

17 bookmarked

154,000+ views
My Little Pony - Friendship is magic is an Archived project on LEGO CUUSOO created by Addam on Febuary 29th, 2012. It was archived due to a competing company (Hasbro) owning the My Little Pony franchise.
This message was written by the creator of the project. Do not modify the message in any way.
Update: I have added the first 3 of the mane six miniature sets. Buildings in scale with the ponies would be enormous and expensive to produce and purchase, hence the difference in size.
The main idea, is to create pony shaped minifigures (or in this case miniponies), which could be used to populate other lego built buildings from Lauren Faust's brilliant TV Show: My little pony - Friendship is magic.
The buildings are microscale, and currently include: Twilight's Treehouse, The Apple Family Barn, and Rainbow Dash's Cloud Chateau.
The ponies would be cusomizable with wings or different hairpieces. The unicorn horn would be part of the hairpiece.
For the headpiece, hair and tail of the 3d model, I used Karol Pawlinski 's downloadable 3D pony library.
Link here: http://fav.me/d3k5wig
Thank you for watching this, Support if you like it :)
IMPORTANT: We are aware of the licensing issues, that might come, if this project is approved by Lego. This is something, that the concerned parties have to work out between themselvses. I personally hope and believe, that a mutually benefical agreement can be reached, when the time comes. Thank you for understanding this, and I wish you a great time browsing Cuusoo.
Pages and features of this project:
- A fan created a facebook page for the project which seems to follow our progress with the project. You can find it here:
http://www.facebook.com/pages/My-Little-Pony-Friendship-is-Magic-LEGO-project/213454818761642
- S1MP50N was so kind to create a wiki page for this project on mlpfanart.wikia.com be sure to check it out here:
http://mlpfanart.wikia.com/wiki/Lego_CUUSOO_Project
- GK733 created a promotional Youtube video of this project:
http://www.youtube.com/watch?v=A-58Z70Kgxw

- Special thanks: I'd like to thank all of the supporters, and Equestria Daily founder and editor Sethisto, for featuring this project on their website again!
http://www.equestriadaily.com/2012/04/lego-cuusoo-big-mac-and-fluttershy.html
- SantaMoss featured the project on the BrickUltra website:
http://brickultra.com/cuusoo-of-the-week-my-little-pony-friendship-is-magic/
- Another special thanks to Equestria Daily for featuring the project again. It seems most of the action happened in my offline-time, but I'm trying to catch up with the comments and everything that happened. Thank you!
http://www.equestriadaily.com/2012/05/lego-cuusoo-page-updated-3500.html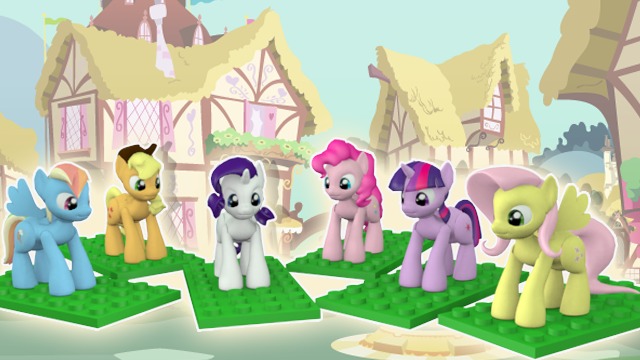 The mane six minifigures.
Here is a detailed image of the LEGO minipony's updated, version 2 structure.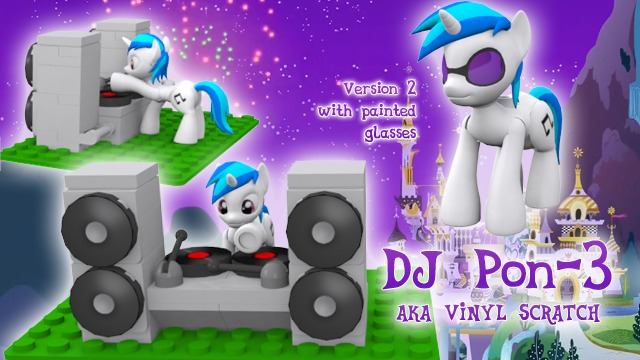 Another set idea, involving regular bricks: DJ Pon-3, at the Canterlot Wedding.
The minifig uses the same hair mould as Rainbow dash, with the horn added.
The discs, are round tiles, and are planted on rotateable plates, aka turntables, so you can actually spin them.
Big Macintosh, ad an example for a colt minifigure. This one still uses the old design, I'll update that sometime later, possibly with his neck thingy added on the back stud.
Support history:
February 29, 2012 – 0 supporters
March 4, 2012 – 200 supporters
March 5, 2012 – 500 supporters
March 22, 2012 – 1000 supporters
April 19, 2012 – 2000 supporters
April 25, 2012 – 5000 supporters
May 7, 2012 - 6000 supporters
May 16, 2012 - 7000 supporters
This message was written by the LEGO CUUSOO Team. Do not modify the message in any way.
Congratulatory message from LEGO for +500 votes
2012.03.15
Congratulations on all of the supporters! Great job on the concept pony figurines, it's clear you've captured the look and feel of My Little Pony as a potential LEGO model.
With the popularity of the new show, it's clear people would want a LEGO tribute. Of course if this reaches 10,000, we'd have to secure a license. Until then, best of luck on your journey to 10,000 supporters!
Please understand that this initial green light does not have an effect on the LEGO Review that will take place if the project reaches 10,000 supporters. Until then, we wish you the best of luck on your journey to 10,000 supporters!
The LEGO CUUSOO Team
This message was written by the LEGO CUUSOO Team. Do not modify the message in any way.
Decision on the IP's fit with the LEGO Brand
2012.06.04
First and foremost, congratulations to Addam for gaining so many supporters for this very well done concept on LEGO CUUSOO. The work you have put into the concepts for potential LEGO renditions of My Little Pony figures and playsets is outstanding.
We know My Little Pony is very popular, and these concepts would make great products. Our team has done our due diligence. Since the property is owned by Hasbro we've decided it's neither a brand fit nor a strategic fit for the LEGO Group to pursue a My Little Pony license, and so we will not consider My Little Pony projects on LEGO CUUSOO further. We see how enthusiastic and hopeful MLP fans are at the possibility of a LEGO line and are sorry to be the bearers of this disappointing news.
Since LEGO CUUSOO opens us to new product suggestions, naturally people will suggest concepts that aren't a strategic fit. We are grateful for the spirit behind projects like the My Little Pony - Friendship is Magic project. It keeps us sharp and looking toward the future of the LEGO brick.
The LEGO CUUSOO Team