Mini Shop Series


General Information

Project ID

15229

Author

Link

Statistics

9,977 supporters

2,270 comments

44 bookmarked

200,000+ views
Mini Shop Series is an Achieved Project on LEGO CUUSOO created by Pekko on April 30th, 2012. It is about building shops with real-life brands in order to add another reflection of real life to LEGO CITY collections. It reached 10,000 supporters on April 10th, 2013, becoming the 20th Achieved project, and the 18th to reach 10,000 supporters. 

The different project models included shops from real world franchises, such as Starbucks, Apple, 7-ELEVEN, McDonalds, Dunkin' Donuts, and LEGO itself.
LEGO has stated that only one model can be included in the set; Pekko has not centered on one but rather, said this:
"I think when this pass review. The decision is not for me anymore. lego will choose the one most suitable to themselves."
This message was written by the creator of the project. Do not modify the message in any way.
WE DID IT !!!!!!!!!!!!!!!!!!!!!!!!!!!!!!!!
Thank You! everyone! ..........................................................................................................................................................................
This series is about mini shop with real brands business come with old school lego shops format (8x16 plate) for decorate your lego town with low price! ( US$ 19.99 )
every set come with 2 minifig 1 staff & 1 customer (on pic is two staff ) they can connect to the other shop by joint it good playability and cute too!
★See big picture & interior
☆See YouTube vdo

If you like this, Please support and make this a reality!
Thanks.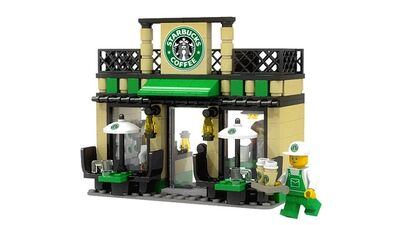 Starbucks Coffee (come with Starbucks cups screen parts & coffee machine)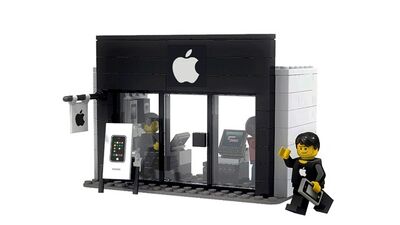 Apple Store (come with iPhone & iPad screen parts ...Cool!)
7-ELEVEN (come with beverage cooler & soda can screen parts )
McDonald's (come with McDonald's cups screen parts & overhead menu on sticker )
Lego Shop (come with new sticker on Lego box & pick a brick area )
Dunkin Donuts (come with donuts tray screen parts & boxart on sticker )

.............................................................................. ☆ PROJECT HISTORY ☆ • 8,000 Supporters - 12/3/2013 • 7,000 Supporters - 24/2/2013 • 6,000 Supporters - 7/2/2013 • 5,000 Supporters - 21/1/2013 • To the frontpage - 14/1/2013 • 4,000 Supporters - 25/12/2012 • 3,000 Supporters - 31/10/2012 • 2,000 Supporters - 11/9/2012 • 1,500 Supporters - 26/8/2012 • 1,000 Supporters - 1/8/2012 • 500 Supporters - 30/5/2012 • 1 Supporter - 30/4/2012
..............................................................................
This message was written by the LEGO CUUSOO Team. Do not modify the message in any way.
Congratulations on 1,000+ Supporters!
2012.08.06
Great concept, Pekko! These models are well designed and playable, and you present popular shops at a scale that could be made available at an attractive price point. Providing options for various potential stores is good, as it gives us flexibility when seeking licences. Note that should this reach review, we would focus the project around a single SKU.
We must ask you remove the box art entirely, and focus on presenting the concept alone so as not to confuse people into thinking these are actual LEGO products.
Good luck on your journey to 10,000 supporters!
The LEGO CUUSOO Team
This message was written by the LEGO CUUSOO Team. Do not modify the message in any way.
Congratulations on 5,000+ Supporters!
2013.01.24
Pekko,
Congratulations on blowing the 5,000 supporters benchmark out the water! You're already more than halfway there.
It's clear from the comments; shops that can be easily added to a town layout have been long desired by the LEGO® fan community. Your project offers an opportunity to add easily identifiable brands which are also easy to build AND are even affordable! These shops add a "real world" element to any layout. Although you showcase a number of shop options, none of them lack for quality and detail.
Once again, should this reach the review stage, we'd have to focus on one model (although picking one could be challenging, they all look so good).
The LEGO CUUSOO Team
This message was written by the LEGO CUUSOO Team. Do not modify the message in any way.
Congratulations on 10,000 Supporters, Pekko!
2013.04.11
You made it! Again, great work and we're impressed with all of the character you've included in your mini shop models.
Congratulations on achieving 10,000 supporters. We now officially advance this project to the Review phase.
What happens now? This project moves from the Idea stage to the Review stage. A "LEGO Review Board" composed of designers, product managers, and other key team members will examine the idea. We'll build concept models and determine if the concept meets our high standards for what it takes to be a LEGO product. This includes factors such as playability, safety, and fit with the LEGO brand. Every potential LEGO product goes through a process like this and must meet the same standards.
The LEGO Review Begins in June This project qualifies for the quarterly review beginning in June, which will also include all projects that reach 10,000 between now and June 3. For more information about the quarterly review process, see this blog post.
The review is a thorough process and from its start, and can take several months. When finished, we make a "go/no go" decision to develop and sell a product based on the Mini Shop Series concept.
When the review is complete, we will inform you of our decision. If green-lit, this project goes into the longest phase of the project; the Development phase. During this time, LEGO model designers refine the product and develop it for release, we create the product materials (box, instructions, marketing), and get everything ready for a production run. This also takes several months.
We will post follow-up information and our decision here.
The LEGO CUUSOO Team