Mars Science Laboratory Curiosity Rover


General Information

Project ID

3431

Author

Link

Statistics

9,990 supporters

663 comments

19 bookmarked

360,400+ views
Mars Science Laboratory Curiosity Rover is an Achieved Project on LEGO CUUSOO created by Perijove on November 15th, 2011. It has been announced as the fifth LEGO CUUSOO product.
The support boost which allowed the project to reach 10,000 is thought to have come largely from Reddit. It remained at 600 supports for many months before the support boost came.
This message was written by the creator of the project. Do not modify the message in any way.
This is a model of the Mars Science Laboratory rover, named Curiosity. The real rover is currently on Mars with a mission to investigate the past and current habitability of the Red Planet. On August 5, 2012, it touched down at Gale Crater, near the equator. This model has a fully articulated arm, deployable mast, and a working rocker-bogie suspension system that allows the rover to climb over large rocks and keep all six of its wheels on the ground.
A LEGO Digital Designer model (right-click "Save As") and step-by-step .pdf instructions of the Curiosity rover are now freely available to enthusiasts and educators who want to build a rover with their own pieces. All of this, along with more information about the pieces you'll need, including part numbers, can also be found on Rebrickable. I'd love to hear from anyone who builds or uses the model. Pictures would be awesome too!
As thanks for all the support, I have added digital models of the Descent Stage and Sky Crane Stand to Rebrickable so people can build the popular Sky Crane model shown in the image below.
The real Curiosity rover is about the size of a small SUV, over 7 feet tall (2.2 meters), and weighs almost 2000 lbs (900 kg). It uses scoops, cameras, drills, a powerful rock-vaporizing infrared laser, and 165 pounds (75 kilograms) of scientific instruments to perform its investigation.
I am a Mechanical Engineer who worked on the actual Curiosity rover at the Jet Propulsion Laboratory. I combined this first-hand experience with my LEGO hobby to create a LEGO model that was as faithful to the actual rover as possible in terms of accuracy, details, and mechanical function, while remaining at a reasonable size and cost. The primary purpose of this effort has been to contribute to the educational outreach for this incredible mission. It is my hope that this model encourages the public support that is integral to the continued development and exploration of outer space.
Anyone curious for more, can find additional images and a short video of the rocker-bogie system on my Flickr page. There are also pictures of a Descent Stage and Sky Crane model.
Be sure to check out NASA's latest video about Curiosity's Seven Minutes of Terror. Visit the official Mars Science Laboratory website to learn more about the real rover and its mission.
This project has mainly been about the Curiosity rover, however, there has also been a lot of interest in the Descent Stage and Sky Crane models that I also created. I would have no problem with LEGO including them in a set.
Screenshot image of the LEGO Digital Designer model of the Curiosity rover.
The goal of the rover is to determine whether conditions favorable to life could have existed on Mars in the past or the present. It will also explore the climate of Mars, its geology, the weather, investigate the radiation environment, and prepare for future human missions.
The suspension system on this model works the same way as the real one, with an offset differential mechanism. It has proven to be very robust and fun to play with when handled by children and adults alike.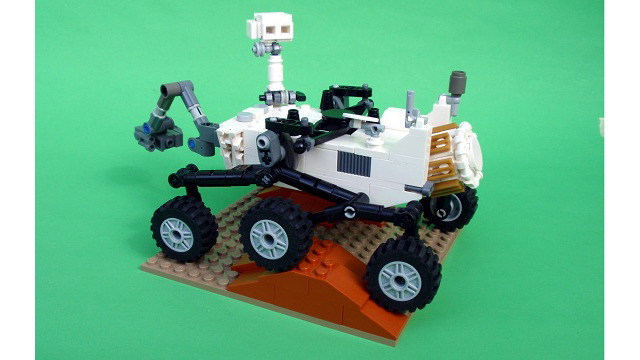 Instead of solar panels, the Curiosity rover uses nuclear power in the form of a radioisotope thermoelectric generator (RTG), which can provide continuous power to the rover. It is the cylindrical portion located at the rear. This power source will last much longer than the designed lifetime of 1 Martian year (almost 2 Earth years), allowing for extended missions of exploration.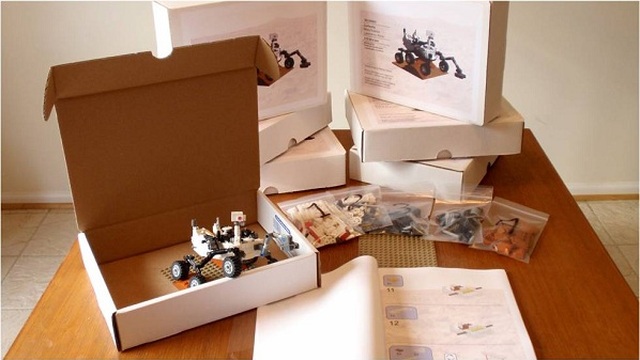 To further my own effort of contributing to the outreach for the Mars Science Laboratory mission, I created seven LEGO Curiosity Kits (one for each successful Mars landing) that I have donated to various museums and organizations to help out with their own educational programs.
Kits have been sent to the Smithsonian National Air and Space Museum locations at the
National Mall Building in Washington, D.C
and the
Steven F. Udvar-Hazy Center in Chantilly, Virginia
. Additional Curiosity Kits have gone to
Scienceworks at Museum Victoria in Australia
, the
Jet Propulsion Laboratory Mars Public Engagement Office
, and
The Planetary Society
. One kit was also donated to the
Charity Auction
at the 2012 Brickfair LEGO fan convention in Virginia. The final kit has gone to the
Solar System Ambassadors Program
.
This message was written by the LEGO CUUSOO Team. Do not modify the message in any way.
Congratulations on 10,000 Supporters, Perijove!
2012.08.18
What a cool Mars Science Laboratory Curiosity Rover model and a very timely LEGO CUUSOO project! You've built and presented the model in a good size that looks accessible and playable. We really like the Sky Crane as shown with the transparent flame pieces, too.
This project has seen a pretty impressive run to 10,000 thanks to last night's Reddit post. Awkward high-fives all around!
Congratulations on achieving 10,000 supporters. We now officially advance this project to the Review phase.
What happens now? This project moves from the Idea stage to the Review stage. A "LEGO Jury" composed of designers, product managers, and other key team members will examine the idea. We'll build concept models and determine if the concept meets our high standards for what it takes to be a LEGO product. This includes factors such as playability, safety, and fit with the LEGO brand. Every potential LEGO product goes through a process like this and must meet the same standards.
The LEGO Review Begins in September This project qualifies for the quarterly review beginning in September, which will also include all projects that reach 10,000 between now and September 3. For more information about the quarterly review process, see this blog post.
The review is a thorough process and from its start, and can take several months. When finished, we make a "go/no go" decision to develop and sell a product based on the Mars Science Laboratory Curiosity Rover concept.
When the review is complete, we will inform you of our decision. If green-lit, this project goes into the longest phase of the project; the Development phase. During this time, LEGO model designers refine the product and develop it for release, we create the product materials (box, instructions, marketing), and get everything ready for a production run. This also takes several months.
We will post follow-up information and our decision here.
The LEGO CUUSOO Team
This message was written by the LEGO CUUSOO Team. Do not modify the message in any way.
The fifth LEGO CUUSOO product: Mars Science Laboratory Curiosity Rover
2013.06.15
The LEGO CUUSOO Team