Legend of Zelda: Iron Knuckle Encounter


General Information

Project ID

32525

Author

Link

Statistics

10,001 supporters

3,068 comments

22 bookmarked

217,600+ views
Legend of Zelda: Iron Knuckle Encounter is an Achieved project on LEGO CUUSOO created by WesTalbott on December 29th 2012. It reached 10,000 supporters on November 1st, 2013. The project has been mentioned on IGN, Kotaku, and ZeldaInformer, which are where some of its supporter boosts are thought to have come from. Despite LEGO CUUSOO refusing to make new molds, this project still requests one: Link's hat/hair. WesTalbott is offering to use his 1% of the net profit to pay for the new mold. The project features breakable pillars, pots with rupees inside of them, an opening and closing door, and a light. WesTalbott also requests that a LEGO Zelda poster be includes with the set. As an example of what it might be like he created a poster which he made using Photoshop and a Wacom Intuos4 Medium Drawing Tablet. As a fun fact, WesTalbott has said that after placing the rupees into the pots, to remove them, you have to: "...toss it at a hard surface much like Link does in the game..."  The project's comment section was once a center for Zelda quizzes, until they were removed by the staff. Now that the project is Achieved, WesTalbot has promised to reveal the instructions for his Iron Knuckle model via flickr and this LEGO CUUSOO wiki.
This message was written by the creator of the project. Do not modify the message in any way.
[ MORE IMAGES OF THIS PROJECT ]
Another awesome project: [ Legend of Zelda: King of Red Lions ]
UPDATE:
Due to the fact that I believe it is absolutely necessary for a single new mold to be created for Link's Hat/Hair/Ears I have decided to donate the 1% of profit should this set be created, back to LEGO Cuusoo, to help pay for the new mold. Perhaps if Nintendo agrees to hand over the license for the Legend of Zelda IP They can make a small offer that will cover any remaining costs. I understand this is something that is very unlikely to happen but the worst I can get is a "No" Until then, I and currently 7500+ will hope for a "Yes".
INTRODUCTION:
This is not the first LEGO Legend of Zelda (LoZ) set proposal. However with the recent dismissal of the first LEGO LoZ project I felt it necessary to keep the ideas flowing in hopes that by hard work and determination Legend of Zelda and LEGO fans will be able to merge the two things they love most. Since the reason the first one didn't make it through was because of too many custom molds and this one would really only need one for links hat. A new Shield and Sword mold would be ideal to depict the Zelda Franchise better but not completely necessary. Just the thought of a single official Link Minifigure would make so many LoZ inspired sets really come to life.
Thank you for checking out my project and if you like the idea please support it!
-Wes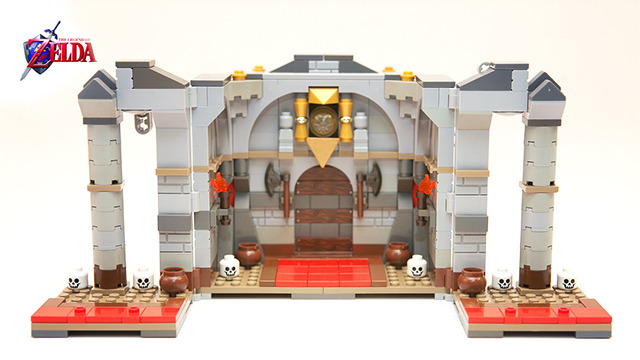 Here is the front of the set complete with pots, skulls, and breakable pillars just like in the game.
Here you can see the back of the set. After Link battles his way past the Iron Knuckle, the door slides open with a turn of the knob shown here, and a yellow light brick turns on above the door. Behind the door Link finds a boss key.
Here are the figures and accessories that come with the set.
We have a very pose able brick-built Iron Knuckle, and a custom Link Minifigure. The Link Minifigure is not as high quality as I would like as the details are all hand painted rather than printed professionally and the head piece is made from sculpey and is not very smooth and prone to chipping, but you get the basic idea. For more detailed concepts on the Link Minifigure click on the link at the top of this page.
Also I have gather 6 pots that hold two red rupees two green rupees and two pink healing fairies. And of course the treasure chest at the end holding a key to another dungeon. WHat other dungeon you ask? well that depends on what kind of dungeon you want to build!

Here's a fun fact: When you put a rupee in a pot it sticks to the inside and doesn't come out when you turn it upside down. Even when you knock it against the table it still doesn't come out. In order to get the rupee to pop out you have to actually toss it at a hard surface much like Link does in the game and the rupee will come right out! I highly recommend trying it if you own one of these pots.
I always like it when you get a poster with a set. So I designed this poster that could be shipped in the box. I think it would look pretty cool next to all the LoZ posters a lot of fans already have hanging on their walls.
This message was written by the LEGO CUUSOO Team. Do not modify the message in any way.
Congratulations on 1,000+ Supporters!
2013.03.06
Yes, this comment is a wee bit late for 1,000. You've built and presented a fantastic fresh approach to a Legend of Zelda product concept, and we certainly appreciate everyone's continued enthusiasm for these ideas.
As we said before, no one fan can claim exclusivity on a project based on a license. So, this and other Legend of Zelda projects may co-exist on LEGO CUUSOO. Should your project reach 10,000 supporters our team will consider your work in the applicable LEGO Review.
Good luck on your journey!
The LEGO CUUSOO Team
This message was written by the LEGO CUUSOO Team. Do not modify the message in any way.
Congratulations on 5,000+ Supporters!
2013.05.29
Dear WesTalbott,
Congratulations on making it past the halfway point for the Legend of Zelda: Iron Knuckle Encounter!
You've designed a singular model with high building and play value that really captures the essence of the Legend of Zelda in LEGO bricks. We especially enjoy the play functions such as collapsing columns, sliding door, and folding walls. Your poster design adds a unique and personal touch to this project as well.
As we've mentioned before, despite the decision related to the first Legend of Zelda project, should this reach 10,000 supporters we will consider the concept in earnest in the relevant LEGO Review period.
Best wishes as you continue on your journey to achieving 10,000 supporters on LEGO CUUSOO.
The LEGO CUUSOO Team
This message was written by the LEGO CUUSOO Team. Do not modify the message in any way.
Congratulations on 10,000 Supporters, WesTalbott!
2013.11.02
Huge congratulations to WesTalbott and all of the supporters of this LEGO® CUUSOO project. This is now the third project based on the Legend of Zelda to reach 10,000 supporters, so it's very clear to us that LEGO and Zelda fans worldwide really want to see this happen.
Even though we haven't been able to move forward with the past two Legend of Zelda proejcts, our team is happy to consider this project in the Winter 2013 LEGO Review period on its own merits.
What happens now? This project moves from the Idea stage to the Review stage. A "LEGO Review Board" composed of designers, product managers, and other key team members will examine the idea. We'll build concept models and determine if the concept meets our high standards for what it takes to be a LEGO product, including playability, safety, and fit with the LEGO brand. Every LEGO product goes through a process like this and must meet the same standards.
Timing of the LEGO Review This project qualifies for the quarterly review beginning in January, which will also include all projects that reach 10,000 between now and January 6. For more information about the quarterly review process, see this Knowledge Base article.
The review is a thorough process and from its start, and can take several months. When finished, we make a "go/no go" decision to develop and sell a product based on the Legend of Zelda: Iron Knuckle Encounter concept.
When the review is complete, we will inform you of our decision. If green-lit, this project goes into the longest phase of the project; the Development phase. During this time, LEGO model designers refine the product and develop it for release, we create the product materials (box, instructions, marketing), and get everything ready for a production run. This also takes several months.
We will post follow-up information and our decision here.
The LEGO CUUSOO Team