Labyrinth Marble Maze


General Information

Project ID

14605

Author

Link

Statistics

4,035+ supporters

492 comments

24 bookmarked

73,092+ views
Labyrinth Marble Maze is a project on LEGO CUUSOO created by Touthomme on April 18th, 2012. The project consists of a marble, which is to be tilted to reach the goal. The maze tilts via technic axles and liftarms. The project was showcased on websites and other LEGO CUUSOO projects, like: The Brick Blogger, Tested, Make, Geekologie, BrickUltra, LEGO CUUSOO Legends, and The Brothers Brick.
To celebrate the project reaching 2,500 supports, a 'Legends of the Sea' themed maze was created. This marble maze had no holes for the ball to get stuck in, making it more suitable for children.
This message was written by the creator of the project. Do not modify the message in any way.
***** Update: October 2012
In celebration of reaching 2500 supporters we've built a 'Legends of the Sea' themed maze. Unlike the other mazes, this one is more like a traditional maze, and does not have holes for the ball to fall into. The challenge is to run through it as fast as you can, without getting stuck in the dead ends and wrong turns. A maze like this would be more suitable for smaller children, as it would still be fun to run the ball through, but wouldn't have the frustration of always getting the ball stuck.
*****
This is a fully functioning version of a Labyrinth marble maze, featuring interchangeable mazes, a built in removable ball container and a travel lock.
Watch a video of this project in action on Youtube.
Having an interchangeable maze system means you can customize the maze as you see fit, build additional mazes, and make them as simple or challenging as you want. In addition to the standard maze I have also designed several themed mazes, which you can see below.
Thanks to the following sites for showcasing this project! The Brick Blogger - Tested - Make - Geekologie - BrickUltra - LEGO CUUSOO Legends - The Brothers Brick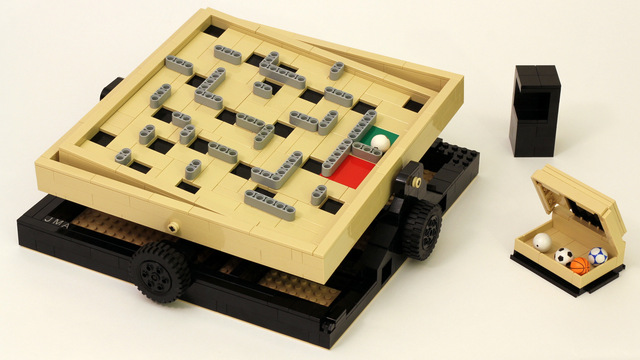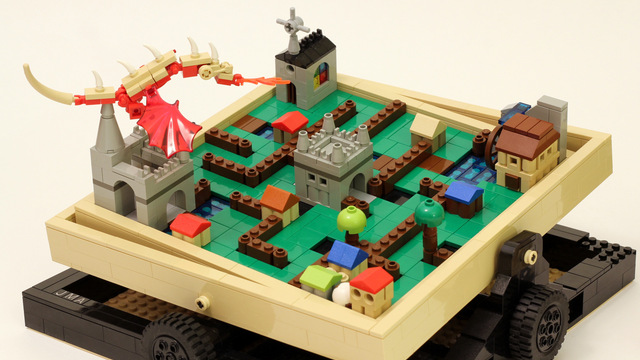 The mechanics of the maze are actually quite simple, using a set of technic axles and liftarms to control the tilt of the maze.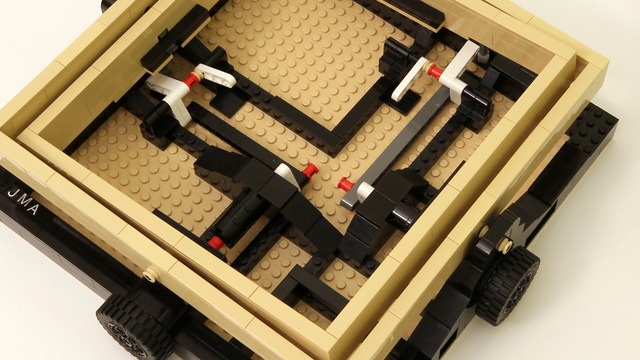 This message was written by the LEGO CUUSOO Team. Do not modify the message in any way.
Congratulatory message from the LEGO Group
2012.05.18
Congratulations on all of the supporters! WOW this is an impressive LEGO Labyrinth! It's beautiful and functional, and looks like it would be a blast to play. It's pretty obvious why a project like this is so popular. Great work. Please understand that this initial green light does not have an effect on the LEGO Review that will take place if the project reaches 10,000 supporters. Until then, we wish you the best of luck on your journey to 10,000 supporters!
The LEGO CUUSOO Team
Video