LEGO Minecraft


Product Information

Product Number

21102

Pieces

480+ pieces

Price

(US) $34.99
€34.99
£34.99
(CANADA) $49.99

Age Range

10+

Set Release

2012

General Information

Project ID

4038

Author

Link

Statistics

9,932 supporters

3,409 comments

298 bookmarked

1,285,900+ views
LEGO Minecraft is a Achieved project on LEGO CUUSOO created by mojang. It has become the third LEGO CUUSOO Official Product , and was the first Official Product from post-Japan-only LEGO CUUSOO. It was created on December 5th, 2011; and achieved 10,000 supporters in only 48 hours, making it the fastest project to ever reach 10,000, as well as the fastest project to ever make it to the Achieved stage.
This message was written by the creator of the project. Do not modify the message in any way.
We're excited about all of the LEGO Minecraft ideas on LEGO CUUSOO. Thanks to our community for your great inspiration!
Seeing LEGO Minecraft sets is also our dream, so we linked to one of the projects. It's clear to us that there are many creative people with good ideas for this and we want to throw our own hat into the ring and start this project to bring the best LEGO Minecraft builders together.
Minecraft is about placing blocks to build anything you can imagine in the virtual world. You can build anything you imagine with LEGO bricks in the physical world. Minecraft and LEGO were meant to be together.
We've invited a couple of the LEGO fans behind the earlier LEGO Minecraft projects, suparMacho and koalaexpert, to collaborate with us to shape the idea. We're also interested in your ideas, and will select the best LEGO Minecraft models to also join our efforts.
As the official Mojang LEGO Minecraft project, we will work with the LEGO Group to secure a licensing agreement and donate the 1% royalty from LEGO CUUSOO to charity. Let's make LEGO Minecraft happen together!! =D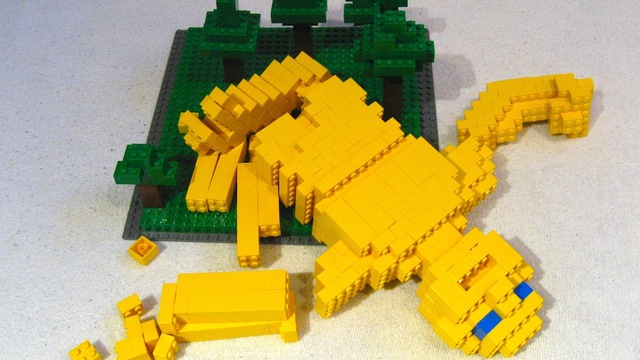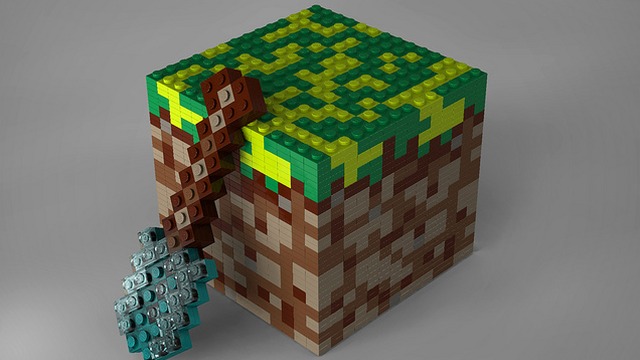 The above two LEGO Minecraft images were produced by Michael Thomas (suparMacho) and are used with permission.
This message was written by the LEGO CUUSOO Team. Do not modify the message in any way.
Congrats on 10,000 Supporters, Mojang!
2011.12.07
Okay, we get it. You have a passionate community who wants to see Minecraft themed LEGO sets. It just took three server outages to prove it to us, but yeah, we're listening. ;-) We never expected a project to meet the threshold this quickly while still in beta. It took our first launch, the Shinkai 6500, 420 days to reach 1,000 votes in Japan. Hayabusa took 57 days to 1,000. With the start of Mojang's Minecraft CUUSOO project it took just 48 hours to get 10,000 worldwide. We admire your passion as a community first and foremost of Minecraft fans, and second as LEGO fans.
We're also pleased with how Mojang and the builders behind the original fan-created Minecraft project, "koalaexpert" and "suparMacho," worked together in a collaborative and giving spirit. It's a great story, and our hats are off to you for that.
So, without further adieu, we congratulate you on achieving 10,000 supporters and officially advance this project to the Review phase.
What happens now? This project moves from the Idea stage to the Review stage. A "LEGO Jury" composed of designers, product managers, and other key team members will examine the idea. We'll build concept models and determine if the concept meets our high standards for what it takes to be a LEGO product, including playability, safety, and fit with the LEGO brand.
This sounds obvious to you as a Minecraft fan (Minecraft blocks and LEGO bricks look similar, so of course it's a fit), but every LEGO product goes through a process like this and must meet the same standards.
The review is a 1-2 week process. When finished, we make a "go/no go" decision to develop and sell Minecraft LEGO products. We will inform you of our decision, and if green-lighted, this project goes into the longest phase of the project; the Development phase. During this time, LEGO model designers refine the product and develop it for release, we create the product materials (box, instructions, marketing), and get everything ready for a production run. This takes several months.
One more thing.
We know 1-2 weeks is a long time to wait, so we'll try to work fast. Maybe not as fast as you were getting to 10,000, but we'll see. We appreciate your enthusiastic support!
The LEGO CUUSOO Team
This message was written by the LEGO CUUSOO Team. Do not modify the message in any way.
Minecraft™ LEGO CUUSOO Project Passes LEGO Review
2012.01.24
Happy New Year! Since the Minecraft™ project reached 10,000 supporters on LEGO CUUSOO, many of you have been eagerly awaiting our update. Until now, the project has been in the LEGO Review?a stage before product development begins where a LEGO Jury evaluates the idea's feasibility as a product and makes a decision. We're happy to announce that the Minecraft project on LEGO CUUSOO has passed the LEGO review and we are now developing a concept that celebrates the best aspects of building with the LEGO system and in Minecraft and we can't wait to show it to you?but we aren't ready just yet. These things take time, so we appreciate your patience. More details are to come.
The LEGO CUUSOO Team
This message was written by the LEGO CUUSOO Team. Do not modify the message in any way.
The third LEGO CUUSOO product: LEGO Minecraft™ Micro World
2012.02.16
For the latest news regarding the third LEGO CUUSOO product, LEGO Minecraft Micro World, see the LEGO CUUSOO blog and the LEGO Minecraft Facebook Page.
The LEGO CUUSOO Team