LEGO Bird Project


General Information

Project ID

16897

Author

Link

Statistics

7,588 supporters

5,969 comments

37 bookmarked

165,500+ views
LEGO Bird Project is a project on LEGO CUUSOO created by DeTomaso on May 14th, 2012. It is the third most supported project in Idea Stage, as well as the second most commented-on project in the Idea Stage.
Project Content
The LEGO Bird Project was formerly titled the "LEGO Bird Series." DeTomaso has built many birds, but as LEGO CUUSOO is only set up to produce single sets as of now, it is thought that several birds will be selected for the final set.
He has created several series of birds based on birds from different locations:
This message was written by the creator of the project. Do not modify the message in any way.
Love LEGO? Love Birds? Love LEGO Birds.
So far I have created a series of birds from Europe, North America, Oceana and a tropical series. I have just started a new series from South America. I tried to make them look as life like as possible.
The plan is to build a series of birds for each continent of the world, that way everybody can have the chance to own their favourite native bird in LEGO form.
There will be approximately seven birds per series. This may change if there are more birds I'd like to build which is most likely.
In an ideal world I would like each bird to be sold separately with a little scene/perch and a little plaque with information about the specific bird. I think it would be a bonus to have a soundbrick somewhere in the build with the relevent birds song or call.
I find birds a great subject to build with LEGO (being a gardener and bird lover, I can't believe I didn't think of it sooner) I also think that if these birds were turned into official sets they would be inspirational to both children and adults.
I really enjoy matching the different colours and features of our beautiful feathered friends and I hope that one day anybody else can have the chance to build their own bird from LEGO.
To see the birds I've built so far in more detail click on their name, but please don't forget to support the project before you go elsewhere. Once you've supported please re check my page to see if you are actually "supporting" the project.
---
En Francais
Vous aimez les LEGO ? Vous aimez les oiseaux ? Vous allez aimer les Oiseaux LEGO !
J'ai créé plusieurs séries d'oiseaux : une série d'oiseaux d'Europe, une série d'oiseaux tropicaux et une série d'oiseaux d'Amérique du Nord (en cour). J'ai essayé de les faire aussi réalistes que possible.
Le projet consiste à réaliser une série d'oiseaux pour chaque continent, comme ça tout le monde pourra avoir son oiseau local préféré en LEGO !
Il y aura environ 7 oiseaux par série.
Etant moi-même un jardinier et un grand amoureux des oiseaux, ce thème m'a vite paru évident pour mes créations LEGO.
Je suis persuadé que si ces oiseaux deviennent des LEGO officiels commercialisés, ils inspireront de nombreux enfants et adultes.
J'ai adoré mélanger les formes et les couleurs de nos amis à plumes et j'espère que, un jour, vous aussi, vous pourrez construire vos propres oiseaux en LEGO!
Pour voir tous les oiseaux que j'ai créés jusqu'à présent, cliquez sur leur nom, mais avant toute chose, n'oubliez pas de soutenir mon projet ! Cliquez sur "Support" et vérifiez ensuite que vous êtes bien passé en "supporting"
British Bird Series
Bobby Robin Kingsley Kingfisher Billy Blue Tit Penelope Puffin Gloria Goldfinch Woody Woodpecker Barney Barn Owl Magnus Magpie Percy Pied Fly Catcher Rodney Redstart
Tropical Bird Series
Tiago the Toco Toucan Carona Canary Leeto and Latifah the LoveBirds Victor The Violet-eared Hummingbird Gordon The Gouldian Finch Marky the Macaw Horace the Hyacinth Macaw Lonnie the Long-Tailed Manakin
North American Series
Stormy the Snowy Owl Scotty the Scarlet Tanager Norman the Northern Cardinal Peter the Painted Bunting Andy the American Goldfinch Eric the Eastern Bluebird Bradley the Blue Jay
I really hope you enjoy these Birds and support me to help them take off.
I am also open to suggestions of future birds to build, please comment and let me know which bird you would like to see and it could become reality.
This is an on-going series so check back once in a while to see the new birds. Please also tell your friends and family about them and ask them to support. 10,000 is a big number but we will get there with your help ;-)
Which one of my LEGO Birds is your favourite?
Thanks for looking.
Thomas Poulsom
Stormy the Snowy Owl
Victor the Violet-Ear Hummingbird
Barney the Barn Owl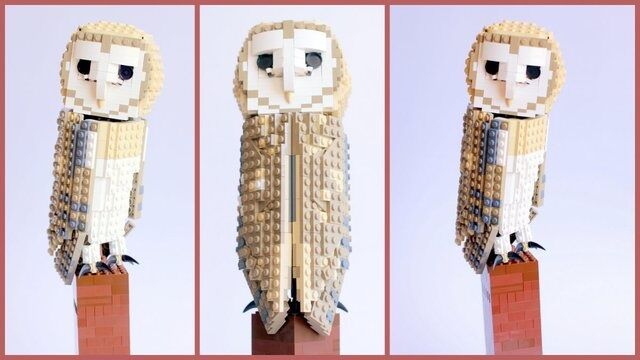 Thank you to all that take the time to support :-)
Feel free to follow me on twitter I will be tweeting updates on how my future builds are going.
Like LEGO Birds on Facebook
I thought you might like to see some of my favourite places that my LEGO Birds have been featured, this is just a small selection of where they have been on the World Wide Web I have now lost track of where they have been.
TreeHugger.com
BBC Springwatch
thisiscolossal.com
Audobon Magazin Blog
TheGuardian.co.uk
Woody the Woodpecker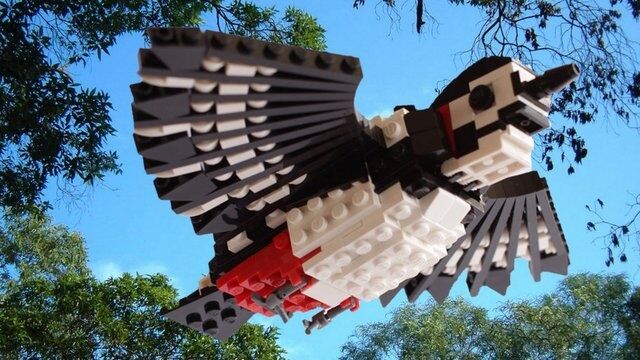 Do you have a favourite LEGO Bird? If so let me know which one it is in the comments section.
Please also support my other project Hedwig, Harry Potter's Pet Snowy Owl
If you like my LEGO Bird Project you might also like to support The Red Squirrel Project by Vuurzoon. I think it's delightful!
Red Squirrel
This message was written by the LEGO CUUSOO Team. Do not modify the message in any way.
Congratulations on 1,000+ Supporters!
2012.05.24
Are you sure these aren't real birds? You capture the shape and the look of each breed so well with LEGO bricks. Congratulations on gaining so many supporters right out the gate. We love this project because not only is your work so good, it's a new concept and an area we aren't focusing on right now. Keep going for the supporters. Good luck on your journey to 10,000!
The LEGO CUUSOO Team
This message was written by the LEGO CUUSOO Team. Do not modify the message in any way.
Congratulations on 5,000 Supporters!
2013.02.25
It's rare to see a project that not only looks fun to build but also has huge display appeal! I think even the craftiest feline would be fooled by the beauty of these birds. It's clear this is a project you feel passionately about, and therefore have invested much time in the idea and construction.
Remember that LEGO CUUSOO is set up to produce individual sets. Since you suggest a "series" of products, you may want to consider which model is your priority for being produced. Otherwise we would like the liberty to choose the model from your list of suggested options. Check out #6 on the post Cheat Sheet: How to Pass the LEGO Review with Flying Colors.
Best wishes as you continue your journey to 10,000 supporters!
The LEGO CUUSOO Team