Howl's Moving Castle



General Information

Project ID

37352

Author

Link

Statistics

25 supporters

21 comments

3 bookmarked

600+ views
Howl's Moving Castle is a LEGO CUUSOO project that was created by speshy on March 18th, 2013. It is an attempt to introduce Miyazaki's anime movies as a LEGO series.
This message was written by the creator of the project. Do not modify the message in any way.
This proposed set depicts a detailed sculptural model of the moving castle from "Howl's Moving Castle" ((ハウルの動く城 Hauru no Ugoku Shiro), the traditionally animated film by famed director Hayao Miyazaki and his studio, Studio Ghibli (株式会社スタジオジブリ Kabushiki-gaisha Sutajio Jiburi).
The movie, itself based on a book by the late Diana Wynne Jones, is an infinitely imaginative film about a much feared--but charming, wizard named Howl, and a young hatter named Sophie, who has a spell cast upon her by the Witch of the Waste, turning her into an old, fragile woman. The two of their fates converge as Sophie encounters the magical moving castle in which Howl resides—a castle built of spare industrial machine parts, perilously held together by a mysterious force. Along the way, Sophie meets many lovable characters, including the resident fire demon Calcifer, the animated scarecrow Turnip Head, and Markl—Howl's young apprentice, among others. Now you can own the castle that has stolen more hearts than Howl himself!
This set includes the castle, with a highly detailed exterior and several moving parts; along with a detachable decorative display base of a scene from the Wastes (the mountainous terrain in which Howl's castle wanders).
The castle features a face-like front with two cannon-like eyes and a mouth that opens and closes, pushing a mechanized tongue in and out. Scattered throughout the castle are small cantilevered rooms and castle turrets, providing for unique niches and nooks throughout. In the rear are the large boilers that Calcifer fires up to get the castle moving. Delicately lifting the castle off the ground are four movable legs (and a detachable connector, to let the castle stand on its own or on the display base). Finally, on the underside of the main body is the modest entrance to the castle—a tiny protruding platform with a wooden door and a lamp hanging above, nearly scraping the ground as the castle moves. Interspersed all over are various pulleys and levers hanging off the sides of the castle, turning this heap of metal into a noisy, steamy, clanking fortress as memorable as it is mysterious!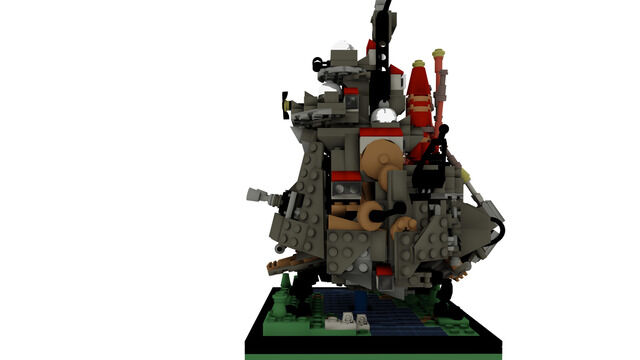 The base features a scenic river-crossing with trees and wild animals grazing.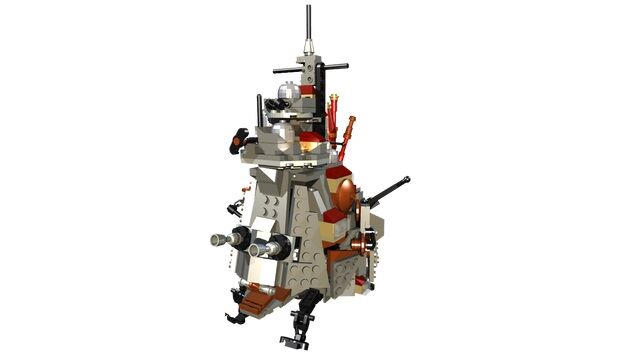 I imagine this set as the first in a series of highly detailed models based on various vehicles from Studio Ghibli films. I have also created several play-oriented sets from Howl's Moving Castle, which I will submit at a later date. The combination of action sets and display sets, as well as the fact that there are about 30 years-worth of Studio Ghibli's masterpiece films waiting to be immortalize in LEGO elements, provides for endless opportunity in marketability, playability, and continuation in theme, similar to how the Star Wars line of LEGO sets is set up.
Views of the entrance in the rear and the opened mouth in the front.
Although I don't see this set containing any minifigures, due to the potentially confusing difference in scale, there is a possibility of including a display piece with a minifigure of the Wizard Howl, in similar fashion to the Star Wars planet series.
Please support this project if you are like me and would love to see LEGO and Studio Ghibli join forces--and leave children and adults alike with the fruits of a partnership that combine some of the most creative and imaginative talent of our times!
Built completely with standard LEGO elements
Only one piece requires unique printing: One brown 1x1 tile with print of wooden door for the entrance
839 pieces.
01