Haunted Mansion


General Information

Project ID

7776

Author

Link

Statistics

1,026 supporters

121 comments

19 bookmarked

28,200+ views
Haunted Mansion is an Archived Project on LEGO CUUSOO created by Badsneaker on January 6th, 2012. It was archived for its large supporter milestone coinciding with the announcement of LEGO's official take on a generic "Haunted Mansion."
This message was written by the creator of the project. Do not modify the message in any way.
Modular Haunted Mansion loosely based on the Bates House from the 1960 movie Psycho. Built on (4) 32x32 dot green baseplates. All pieces are currently being produced by LEGO. 75 degree black corner slopes ordered through LEGO. (Not Pick-a-Brick)
Would go great with either the Batman line or the upcoming Monster Fighters line!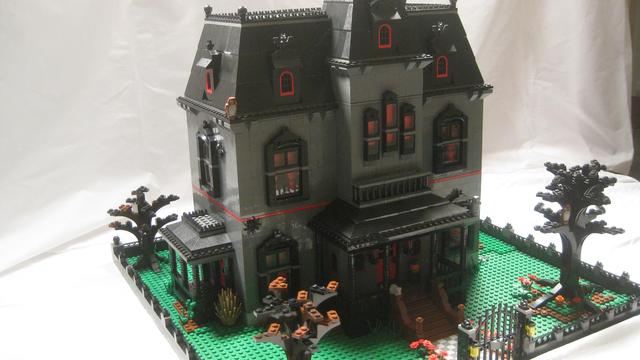 Removable 2nd floor and roof.
This message was written by the LEGO CUUSOO Team. Do not modify the message in any way.
Congratulations on 1,000+ supporters, however this project will not be considered for production.
2012.08.09
First and foremost, congratulations to Badsneaker for reaching 1,000 supporters with your Haunted Mansion. It's a very well done and detailed model.
From a business case perspective, this project would be unlikely to pass the LEGO Review as the concept and price point overlap #10228 Haunted House.
Also, great care is taken at the LEGO Group to make products acceptable for children. It's our position that the Monster Fighters line approaches the horror genre in a healthy way while a horror film like Psycho is clearly not child-appropriate. Therefore we will not consider a project that refers to the film.
As LEGO CUUSOO evolves, we're taking a look at potential license conflicts earlier on in a project's life cycle. Since this refers to an IP and decided to make this decision now.
Opening ourselves to new product suggestions invites good and popular ideas that don't always fit our brand. We are grateful for the spirit behind projects like the Haunted Mansion and for the opportunity to be challenged. It keeps us sharp and looking toward the future of the LEGO brick.
The LEGO CUUSOO Team