Firefly Serenity Playset


General Information

Project ID

12902

Author

Link

Statistics

9,990 supporters

536 comments

48 bookmarked

263,000+ views
Firefly Serenity playset is an Archived project on LEGO CUUSOO by tbone_tbl on March 24th, 2012. It was rejected as the license was not deemed appropriate for LEGO's target audience.
It achieved 10,000 supports on May 6th, 2012.
Although this set never passed official CUUSOO Review, the model, minifigs, or the building instructions can be purchased at this page. Saber-Scorpions Shop sells the hero of the series as a minifigure (under "Space Cowboy Captain").
This message was written by the creator of the project. Do not modify the message in any way.
5/6/12 That's all folks. Honestly though, thank you to everyone who helped this reach 10k. Thank you Brown coats, all the liking, tweeting, +1ing, blogging, and harassing of celebrities has come to a successful close. Thank you to the cast who were bombarded by requests to support this project, for their patience and support, and to Lego for this opportunity and experience.
Now for the hardest part of all, we wait.
5/5/12 Less than 1000 left! I wanted to wait till Lego wrote back with their 5000 comment, but it looks like that might not come until this reaches 10,000. So I want to get this out there before the project goes to review. There is a lot of debate about whether this will pass the review. In the event they don't/can't move forward with this I fully intend to make my own instructions. So a lego serenity WILL happen, it's just a matter of when and who the instructions are printed by. So let's get the final 900 supports, relax while we wait for the review and we'll see what happens.
Many of you have asked for it so I finally complied. After putting my micro firefly (which is still up for supporting http://lego.cuusoo.com/ideas/view/8071) from the movie "Serenity," I am now in the process of designing a model of the ship Serenity that will be able to fit minifigs. It won't be truly minifig scale, but will be like 4504. An accurate model while being able to fit minifigs and playable areas.
UPDATE: By popular demand I have added a concept minifigs of Captain Malcolm Reynolds and the rest of the crew, and yes Jayne has his cap.
So, the picture is not the final model. The one above is already built and is about the right size, but was not intended to fit minifigs and does not have any interior to speak of. I am going to recycle as many elements as possible to save on the design time, so the nose the wings, and the light ring in front of the firefly drive will be the same or similar to the ones pictured. The cargo bay and dining area, however, will have to be redesigned to accommodate minifigs.
More pictures of the current model below and even more pictures in the gallery. http://www.brickshelf.com/cgi-bin/gallery.cgi?f=479368
Planned Features:
movable loading ramp
cockpit capable of fitting 1 minifig
light up firefly drive
playable dining area and cargo hold
rotating engines
Once again this is not for the model pictured. Some parts will be similar and it will be about the same size, but many aspects will have to change for there to be a playable interior.
A HUGE thank you to Morena Baccarin, Nathan Fillion, and Adam Baldwin for retweeting about this project. I know you and the rest of the cast have been bombarded by requests to support this and it means a lot to me. Also a big thank you to Grant Imahara and to Wired: http://www.wired.com/geekdad/2012/04/vote-for-lego-firefly/
The flaps covering the drive do open and close, however this version of the model doesn't light up. Something I'm looking to change in the rebuild.
The engines in the vertical position and the cargo ramp lowered. This model did have a shuttle to scale, but with the rebuild containing minifigs getting a to-scale shuttle to dock with the ship would require the model to be too big. That still leaves the shuttle open for a separate set though.
Some comments have brought up the possible issue of Inara's character, however, basing this on the movie Serenity, rather than the series, avoids any issues as Inara isn't introduced until later, and her role in general is limited. This would allow Lego to focus more on the vehicles and action, and if the theme becomes marketable for other sets, they can branch out and pick and choose ideas from the series (like the shuttle). And making sets based off a single movie has been done before several times (ie speedracer). Also Lego managed to make the Temple of Doom kid friendly. If they can pull that off I have confidence in the Lego group that they can pull off Serenity theme also.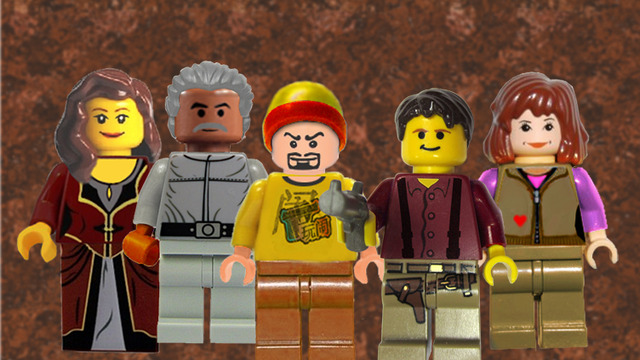 UPDATE 3/31/12: Preliminary minifig for Malcolm Reynolds. If this is approved and the rights procured I guess there would be other sets (ie the Mule hover craft, the shuttle, alliance craft) to collect all the characters from the show, so not everyone would have to be included in this particular set. This would probably include Mal, Wash (with toy dinosaur), Simon, and Shepherd Book, and Kaylee though any/all of the characters could reasonably be included, but that would increase the price. (naturally the face and hands would always be skin tone, but I worked with what I had)
Inara, Book, Jayne with ski cap, Mal, and Kaylee. I originally had a much more accurate and ornate decal for Inara, but I managed to overwrite the file and I lost it.
Wash, Zoe, Simon, and River
This message was written by the LEGO CUUSOO Team. Do not modify the message in any way.
Congratulations on 10,000 supporters! Here is our decision on the IP's fit with the LEGO brand.
2012.05.08
First and foremost, huge congratulations to tbone_tbl for reaching 10,000 supporters on LEGO CUUSOO, and toward everyone for all of the support of the Firefly Serenity Playset project!
LEGO CUUSOO gives the opportunity for adult LEGO fans to submit product ideas. You submit some incredible things, and we're huge fans of all of your work. This is a beautiful model and a skilled rendition of the beloved Serenity built with LEGO bricks.
When reviewing projects for production, the LEGO Jury first looks at how the concept fits the LEGO brand. We learned the IP was questionable regarding a brand fit, and since we anticipated this project reaching 10,000 the team got a head start and reviewed the project on these criteria.
LEGO produces toys for children. Therefore all LEGO products, regardless of age target, must be content-appropriate for this core audience. With this in mind we have decided that as cool as the Serenity model is, the Firefly TV show and Serenity film contain content that is not appropriate for our core target audience of children ages 6-11. While we know this news will disappoint those who supported the project, we will not be producing this as a LEGO product.
Opening ourselves to new product suggestions invites popular ideas that don't always fit our brand. We are grateful for the spirit behind projects like the Firefly Serenity and for the opportunity to be challenged. It keeps us sharp and looking toward the future of the LEGO brick.
The LEGO CUUSOO Team
This message was written by the LEGO CUUSOO Team. Do not modify the message in any way.
Congratulatory message from LEGO for +500 votes
2012.04.11
Congratulations on all of the supporters! We're quite impressed with the quality of work and the level of thought you have put into creating this beloved ship from the Firefly series. You've included a lot of detail and used many great building techniques. Your ship has personality, and we like it. Best of luck on your journey to 10,000 supporters!
The LEGO CUUSOO Team