Female Minifigure Set


General Information

Project ID

15401

Author

Link

Statistics

10,002 supporters

1,901 comments

16 bookmarked

134,500+ views
Female Minifigure Set is an Achieved project on LEGO CUUSOO created by Alatariel on April 30th, 2012.  Its goal is to produce a set of Female Minifigures in various professions. It is currently the most supported project in Idea Stage. A few months after being published, it earned a support boost that carried it beyond 1,000 supporters, which came from TowardtheStars.com. The final push to Achieved status came from various facebook campaigns and retweets on twitter, carrying the project from a bit over 2,200 supports to 10,000 supports in just a few days. The project reached 10,000 supporters on June 10th, 2013.
Since Alatariel had created numerous designs for "mini-sets," as the project neared 10,000, she selected 3 for LEGO to produce, while leaving the possibility open for LEGO to include more in their final set.
Project Content
In the project, Alatariel proposes several different small sets, each starring a female minifigure.
Paleontologist with T. Rex (Final set proposal)
Falconer with Birds
Geologist with a pick and compass
Engineer with robot arm
Astronaut with mini rocket
Judge with gavel
Scientist in a lab (Final set proposal)
Zookeeper feeding a tiger
Businesswoman in office
Mail Carrier with bicycle
Mechanic with tools
Firewoman with fire hydrant
Construction Worker at work site
An Astronomer with telescope (Final set proposal)
This message was written by the creator of the project. Do not modify the message in any way.
A BIG THANK YOU to everyone who supported this project, posted articles, and shared it on Facebook and Twitter! It has been a great ride and the final boost was absolutely spectacular!
GlenBricker's excellent analysis shows how the FMS project got 10k supporters ************************************************************************************************
To to get updates as the project goes through Review follow me on Twitter For more information, images and discussion please check my blog: Alatariel's Atelier My other Lego Cuusoo projects can be found here: Alatariel's Projects
Although recently LEGO® has started to design and add more female figures to their sets, they are still a minority. A small set of minifigures would provide a great opportunity to add women to our LEGO® town or city communities. I have designed some professional female minifigures that also show that girls can become anything they want, including a paleontologist or an astronomer. Being a geochemist myself the geologist and chemist figures are based on me:-) Due to the limitations of LDD the heads and hairstyles I used here are a bit limited. Ideally, Lego would use some 'rare' face and hair designs if they were to produce a set.
Each figure comes with a 6x4 base plate and a corresponding setting to enhance the building experience and stimulate creativity. The sets also come with lots of accessories, such as bones, vials, a magnifying glass, etc. I have designed 12 individual vignettes, but I imagine a selection of 3 would make a good box size.
Because the project is climbing to 10k really fast it's time to evaluate which sets are most popular so Lego can take that into account when they review the project. Many people have left comments indicating their preferred designs - thanks! - and it is clear that the Science-based ones are favored. As such, I would like to propose that the final set will represent a versatile Research Institute comprising the labs of the Astronomer, the Paleontologist, and the Chemist: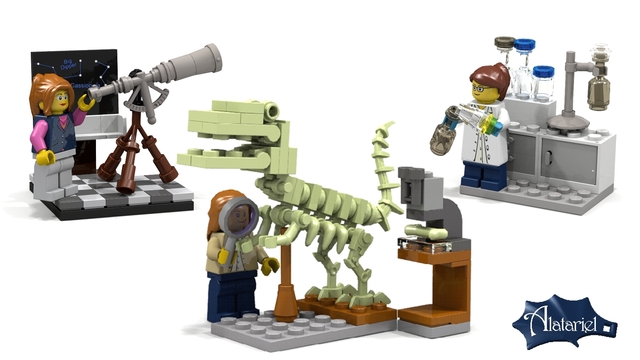 The motto of these Scientists is clear: explore the world and beyond! The Astronomer discovers new stars and planets with the telescope, the Paleontologist studies the origin of the dinosaurs and the Chemist does experiments in the laboratory. The complete set consists of 138 parts.
Of course, the final decision is up to Lego. They could decide to produce only one of the vignettes in which case I would propose the Paleontologist. It's also possible that they would like to make a bigger set. The Research Institute could easily be expanded with the Robotics Engineer, which is also highly popular.
Below are the other designs they might want to consider.
Falconer with two birds, Geologist with compass and hammer in the field & Robotics Engineer designing a robot arm
Zookeeper with tiger, Judge & Mail carrier with bicycle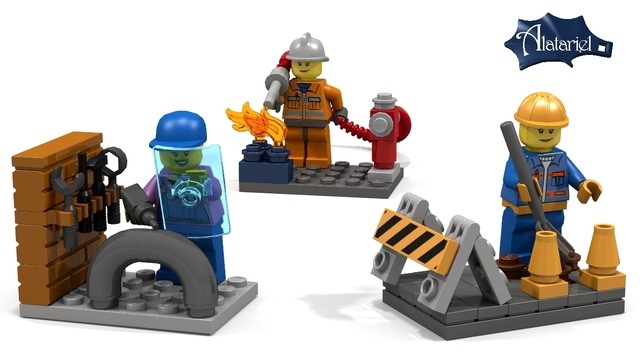 Mechanic, Fire fighter & Construction worker
This project is proud to support:
The Discworld by GlenBricker Lady Sabre's Airship Pegasus by GlenBricker RESEARCH LAB SUBMARINE by GRusso MARS BASE by GRusso Log Cabin - Two Seasons! by Ssorg
Check out these great projects too and support!
---
Project history: 10000 supporters - June 10, 2013 Woot!!! 7500 supporters - June 7, 2013 5000 supporters - June 6, 2013 2500 supporters - June 4, 2013 2000 supporters - May 3, 2013 1500 supporters - Dec 31, 2012 1000 supporters - Nov 27, 2012 500 supporters - June 28, 2012 250 supporters - May 31, 2012 100 supporters - May 28, 2012
---
This message was written by the LEGO CUUSOO Team. Do not modify the message in any way.
Congratulations on 1,000+ supporters!
2012.12.11
A great collection of LEGO Minifigures in exciting professions. Each set has so much detail and style, great job! We wish you good luck on your journey to 10,000 supporters!
The LEGO CUUSOO Team
This message was written by the LEGO CUUSOO Team. Do not modify the message in any way.
Congratulations on 5,000+ Supporters!
June 6th, 2013
Congratulations, Alatariel, on the recent boost in supporters for your Female Minifigure Set project. You've rocketed past 5,000 and are well on your way to 10k!
First and foremost, your vignettes featuring female LEGO minifigures in their respective roles are very well designed and presented. We also hear you and your supporters and take to heart that you would like to see more options that present women in professional roles within the LEGO product assortment. This aligns with our ambitions as well.
Please remember that LEGO CUUSOO is set up to produce individual sets. Since you suggest multiple potential products, you may want to consider which model is your priority for being produced. Otherwise we would like the liberty to choose the model from your list of suggested options. Check out #6 on the post Cheat Sheet: How to Pass the LEGO Review with Flying Colors.
Best of luck as you aim for 10,000 supporters
The LEGO CUUSOO Team
This message was written by the LEGO CUUSOO Team. Do not modify the message in any way.
Congrats on 10,000 Supporters, Alatariel!
June 11th, 2013
Congratulations, Alatariel, and all supporters of the Female Minifigure Set project, for reaching 10,000 supporters in a whirlwind of support this past week. Thanks also for updating your proposal to recommend we focus consideration on the three science-based vignettes.
We now officially advance this project to the Review phase.
What happens now? This project moves from the Idea stage to the Review stage. A "LEGO Review Board" composed of designers, product managers, and other key team members will examine the idea. We'll build concept models and determine if the concept meets our high standards for what it takes to be a LEGO product. This includes factors such as playability, safety, and fit with the LEGO brand. Every potential LEGO product goes through a process like this and must meet the same standards.
The LEGO Review Begins in September This project qualifies for the quarterly review beginning in September. For more information about the quarterly review process, see this blog post.
The review is a thorough process and from its start, and can take several months. When finished, we make a "go/no go" decision to develop and sell a product based on your suggested Female Minifigure Set concept.
When the review is complete, we will inform you of our decision. If green-lit, this project goes into the longest phase of the project; the Development phase. During this time, LEGO model designers refine the product and develop it for release, we create the product materials (box, instructions, marketing), and get everything ready for a production run. This also takes several months.
We will post follow-up information and our decision here.
The LEGO CUUSOO Team