Exo Suit


General Information

Project ID

6135

Author

Link

Statistics

9,984 supporters

1,208 comments

33 bookmarked

234,900+ views
Exo Suit is a Achieved project on LEGO CUUSOO created by PeterReid on March 28th, 2012.  The project is now Achieved, reaching 10,002 on January 8th, 2013.  LEGO CUUSOO has stated that the project may have trouble in the review because of its use of "illegal techniques" which may compromise the model's stability. 
Prior to its creation on LEGO CUUSOO, the Exo Suit was featured in a LEGO Master Builder Academy handbook.  It will be reviewed during the 2013 Spring Review.
This message was written by the creator of the project. Do not modify the message in any way.
The
Exo Suit
is my most popular model on
Flickr
, and has appeared in the LEGO
book
and LEGO MBA kit 3.
Now you have the chance to own this model.
Huge thanks to those good people who featured this project on their blogs. Tranquility Base, BoingBoing, Wired, The Daily What, Brick Fanatics, Gimme Lego, Brothers Brick and Daily News Agency. You people are awesome.
Edit (27-7-2012) - Over half way there! Massive thanks to everyone who has supported so far! Keep those votes coming.
Dear LEGO - If this model makes it to the development stage, can I respectfully request that Mark Stafford handles the redesign? He is a good friend, and the best man to transform the Exo-Suit into an official LEGO set.
Now, imagine an army of these guys.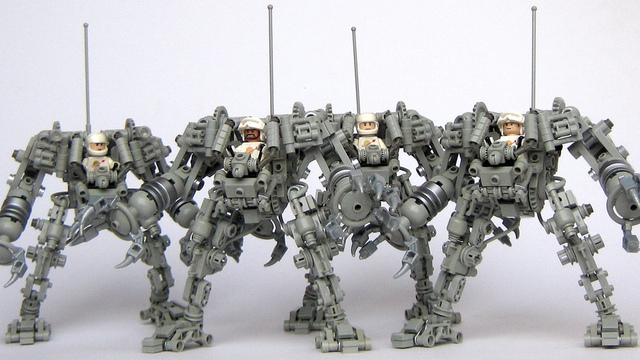 With your support the Exo Suit can be made into an official set.
You can make it happen - vote now!
Now with added boomsticks
This message was written by the LEGO CUUSOO Team. Do not modify the message in any way.
Congratulatory message from LEGO for +500 votes
2012.04.17
Congratulations on all of the supporters! We're amazed at the detail in these Exo Suit designs. It would be great to have the opportunity to produce a set based on your work that has been featured in various LEGO-related publications. Best of luck on your journey to 10,000 supporters!
The LEGO CUUSOO Team
This message was written by the LEGO CUUSOO Team. Do not modify the message in any way.
Congratulations on 5,000+ Supporters!
2012.07.26
Dear PeterReid,
Congratulations on passing this milestone of 5,000 supporters on LEGO CUUSOO for the Exo Suit! You're halfway there!
Like we said before, this is a really awesome model. The detail makes it come alive and it's easy to imagine it working in a shuttle bay, a team of them constructing a space station, or engaged in an epic mecha battle.
Once the project reaches 10,000 and enters the review stage, our design team will need to address the complexity of this build and the techniques used, to see if it is feasible to maintain the essence of the model while ensuring it uses legal techniques, is cost effective, buildable, and playable. On the second half of your journey, you are welcome to offer suggestions toward this end. Check out #2 on the post Cheat Sheet: How to Pass the LEGO Review with Flying Colors.
Best wishes as you continue on your journey to achieving 10,000 supporters on LEGO CUUSOO.
The LEGO CUUSOO Team
This message was written by the LEGO CUUSOO Team. Do not modify the message in any way.
Congratulations on 10,000 Supporters, PeterReid!
2013.01.09
Again, beautiful model and well-deserved success! It's great to see a model that carries the essence of classic LEGO Space forward to the "present day" of building qualify for review.
Congratulations on achieving 10,000 supporters. We now officially advance this project to the Review phase.
What happens now? This project moves from the Idea stage to the Review stage. A "LEGO Review Board" composed of designers, product managers, and other key team members will examine the idea. We'll build concept models and determine if the concept meets our high standards for what it takes to be a LEGO product. This includes factors such as playability, safety, and fit with the LEGO brand. Every potential LEGO product goes through a process like this and must meet the same standards.
The LEGO Review Begins in March This project qualifies for the quarterly review beginning in March, which will also include all projects that reach 10,000 between now and March 4. For more information about the quarterly review process, see this blog post.
The review is a thorough process and from its start, and can take several months. When finished, we make a "go/no go" decision to develop and sell a product based on the Exo Suit concept.
When the review is complete, we will inform you of our decision. If green-lit, this project goes into the longest phase of the project; the Development phase. During this time, LEGO model designers refine the product and develop it for release, we create the product materials (box, instructions, marketing), and get everything ready for a production run. This also takes several months.
We will post follow-up information and our decision here.
The LEGO CUUSOO Team