Eve Online Ships - Merlin


General Information

Project ID

16777

Author

Link

Statistics

1,584 supporters

215 comments

6 bookmarked

37,600+ views
EVE Online Ships - Merlin is a project on LEGO CUUSOO created by czar on May 16th, 2012. The project is based on the Merlin vehicle in the EVE Online MMO (Masive Multiplayer Online) game.
This message was written by the creator of the project. Do not modify the message in any way.
EVE Online Ships - Merlin is a LEGO CUUSOO project along with being a popular online space MMO (Masive Multiplayer Online) game with some *fantastic* ship designs. The game itself has a huge number of dedicated subscribers. It was created by czar on May 16, 2012.
Project Content
This is a large model of a Caldari Frigate called the Merlin. One online wiki has this to say about this ship: "The Merlin is the most powerful all-out combat frigate of the Caldari. It is highly valued for its versatility in using both missiles and turrets, while its defenses are exceptionally strong for a Caldari vessel."
I would love to see an official model of at least 4 EVE Online ships at a size that could make them minifig size and hopefully cost under $100. Or even a larger UCS one-off build of an iconic ship such as the Merlin. An online poll on the EVE Online facebook page and website decided which 4 frigates would be built to complement the Rifter. The Merlin was the Caldari frigate favorite. So, at last here it is.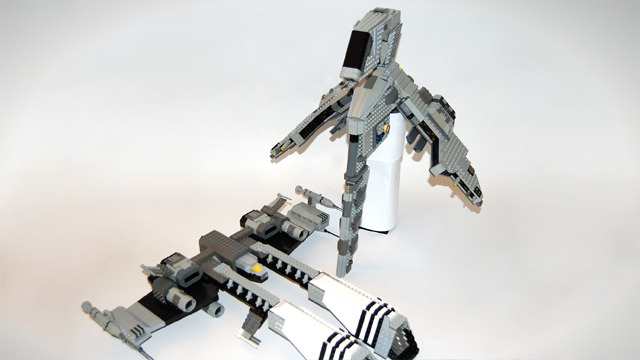 Here is a shot with the Merlin and Rifter together for the first time.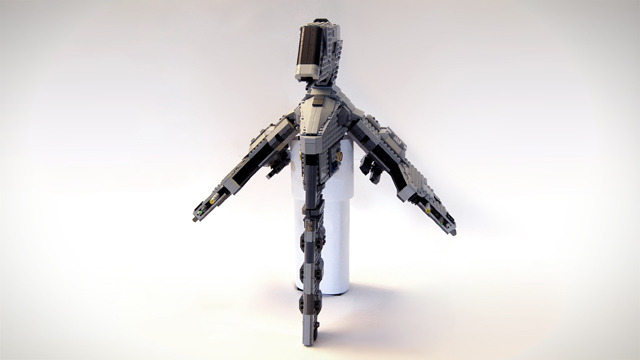 Because of the design of the Merlin, I had to build a stand for it which I wrapped so it didn't detract.
I spent more time building the Merlin than the Rifter because of the many hard angles. I also added more detail and even a cockpit to house a Caldari pilot. Still not enough room for a pod.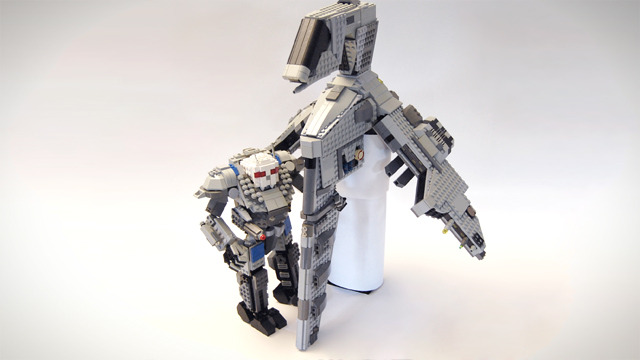 And finally, here is the Mechwarrior Atlas giving his new friend the Merlin a kind arm around.
Support the Atlas here: Mechwarrior Atlas
Support the Castle Crashers project here:
Castle Crashers
This message was written by the LEGO CUUSOO Team. Do not modify the message in any way.
Congratulations on 1,000+ Supporters!
2012.06.03
Dear czar,
Congratulations on all of the supporters! We love the new EVE Online ship. You did a great job capturing all of the angles on this one.
Best of luck on your journey to 10,000 supporters!
The LEGO CUUSOO Team